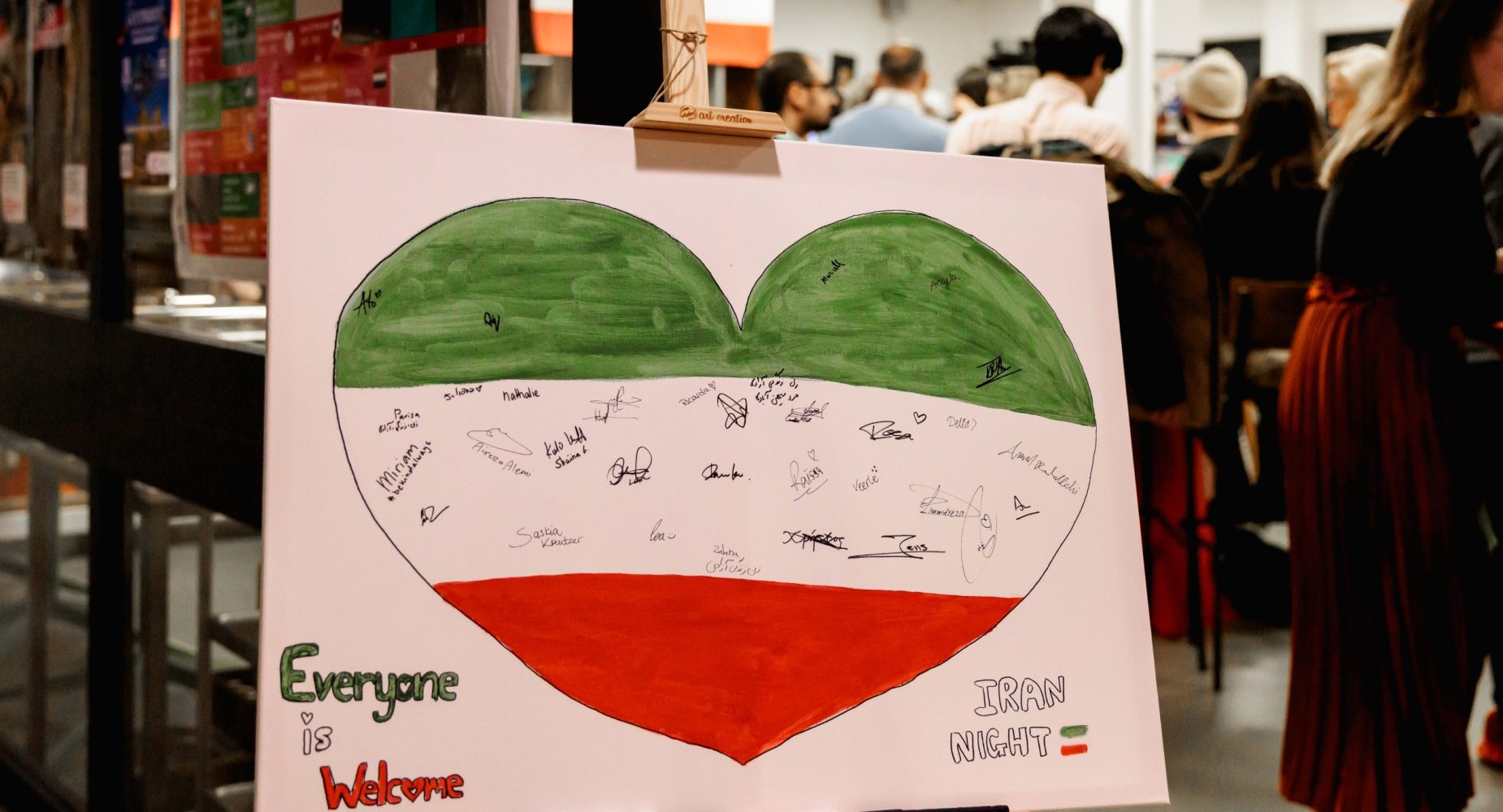 Actueel, Nieuws
Iranians find support for protest at HAN: "We are with you"
"Zan, Zendegi, Azadi!", "Women, Life, Freedom!" These words resonated during an emotional gathering at the International School of Business in Arnhem yesterday. Attendants came in support of the protests in Iran. "We are with you," said board member Rob Verhofstad.

Text: Jenda Terpstra
Photography: Marcel Krijgsman
"Zan, Zendegi, Azadi: the words we cannot say enough,", according to Verhofstad. The public outcry for freedom in Iran started with the death of Mahsa Amini, a 22-year-old woman who died after being detained for breaching Iran's strict dress code for women. Over two months of protests broke out. Hundreds have reportedly been killed and many more imprisoned.
Around fifty HAN-students and teachers gathered at the 'Base Camp' of the International School of Business yesterday, to raise awareness for the uprising. "My family and friends are taking part in them," says a 26-year-old student. He wants to stay anonymous, as he fears for his loved ones. "It is too dangerous for me to speak out, even here in the Netherlands. My relatives are still in Iran. To attend tonight is the only way I can support them."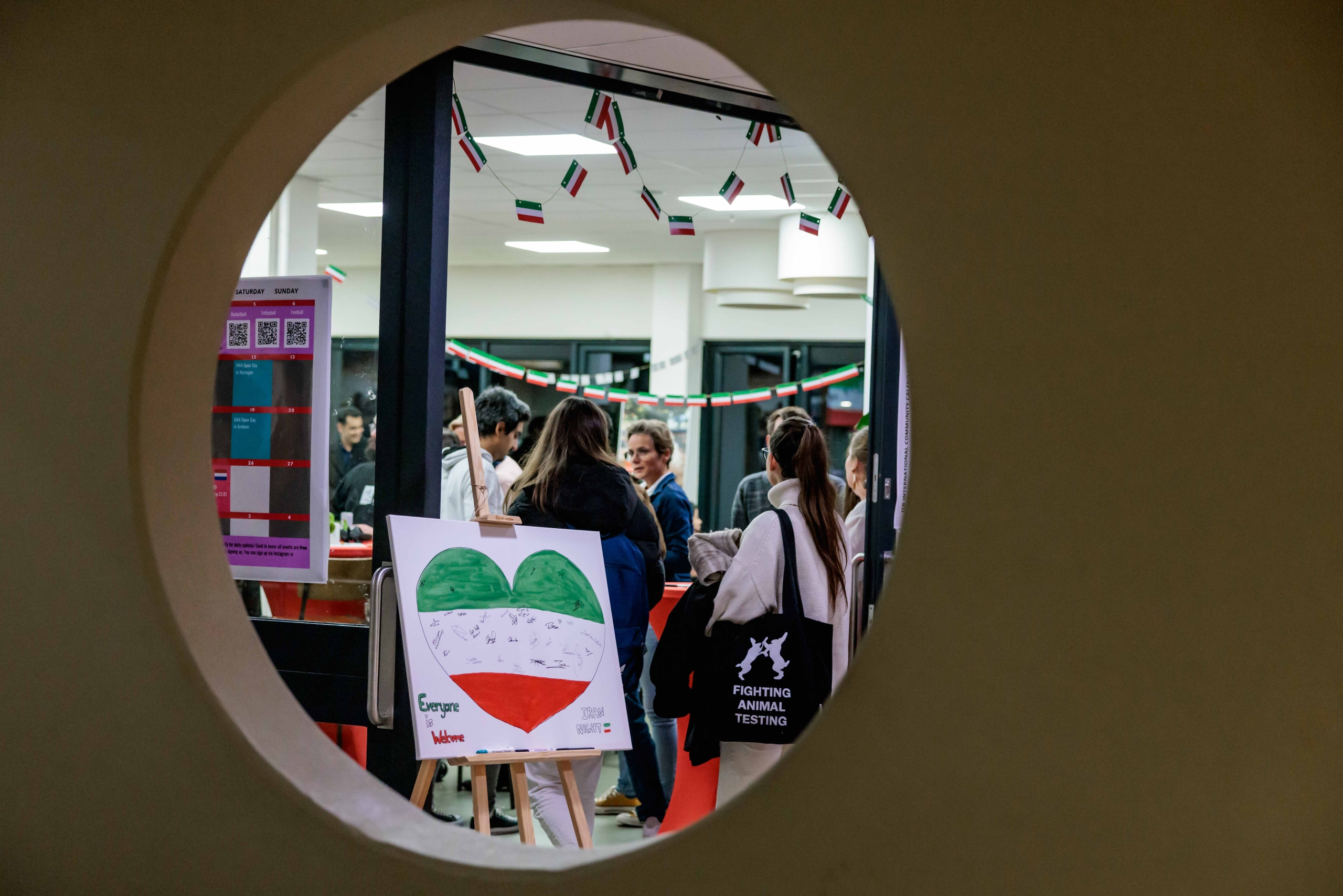 Secret lives
Women have been at the forefront of the Iranian protests, taking off their headscarves in public and waving them in the air. Some set them on fire, others cut their hair in public. One female student, who speaks to the crowd in Arnhem, understands why. "In Iran, I had two different lives. One at school and one in public. At school, girls were forced to dress in ugly dark uniforms. I had to wear them too since I was around eight years old. Our second life was at home. It was a completely different world, where me and my friends dressed in colourful clothes and showed our hair."
She explains to the audience what it meant to be a woman in Iran. "You cannot sing, you cannot dance, you do not have rights. My sister started to dress like a tomboy, so people wouldn't notice that she is a girl." This is the new generation: she chooses not to be herself in order to be free. The Iranian revolution of 2022 is led by women, which makes sense, she says. "It is happening right now, because of the faith of women like me, and like Amini", she says. The audience nods in agreement.
"I believe in eventual regime change. But it will take time. It will not be a quick thing"

Taking action
"I am so hopeful to see you all here", says a Iranian teacher who recently moved to the Netherlands. "My best friend got arrested and sent to the most notorious prison in the world. For the first time in my life, I decided that I had to take action. It is risky, but I believe we cannot stay silent. We have to start talking, tell people that we are not okay," she says, addressing the many other Iranians in the room. "I started talking."
The hopeful vibe in the room changes shortly when a song of Iranian singer Shervan Haijpour is played. Tears are running down several faces after hearing his words: "For dancing in the streets. For the fear when kissing, for my sister, your sister, our sisters… for freedom, for freedom."
"We are worried", says an Iranian student who has been in The Netherlands for three years. Yet, he is also optimistic. "This time it feels different. There are more people who take part in the protest, it is better organised. I believe in eventual regime change. But it will take time. It will not be a quick thing."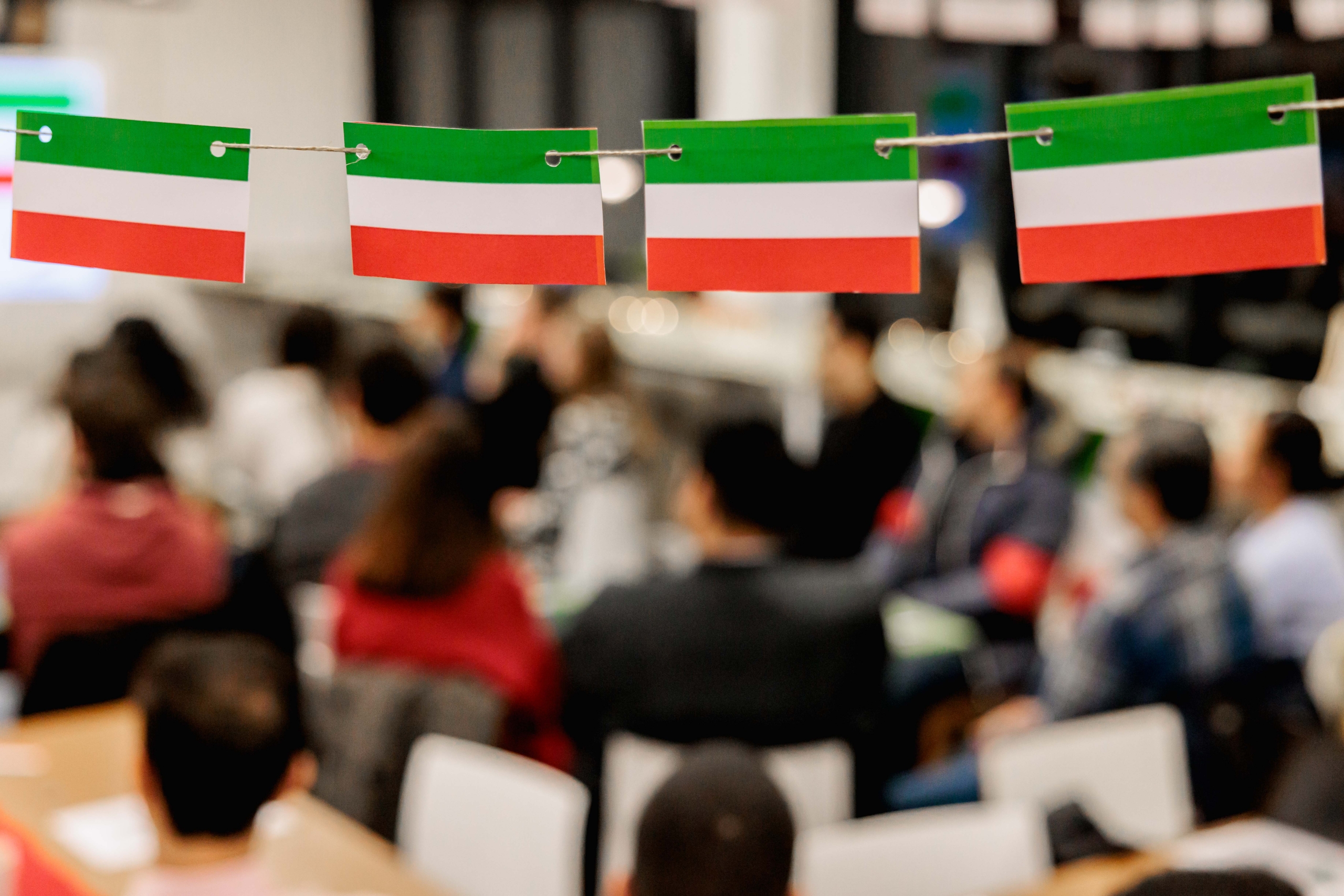 Unique situation
It is a unique situation that the HAN takes a stand in a political situation, says Arjan Keunen, Dean of the International School of Business. "We gave it some serious thought before organising it. We are a school, not a political organisation. Yet, from my perspective, it is important to pay attention to what is currently happening in Iran. People are not allowed to express what they stand for, what they believe in or who they are. These are values that we hold dear."
Perhaps it is not merely on moral grounds, but also to do right by the colleagues and students from Iran, he adds. "We have around fifty students with an Iranian passport at our school, and six faculty members from Iran."
Board member Rob Verhofstad agrees. Iranian students and staff will find support at the HAN, he emphasises. "Many of you are not able to speak freely. You are concerned for your relatives. We are aware of that. We are also aware that sometimes, you have to talk out loud. That's why we are here tonight. I want to let you know: we are with you. We say these words again and again: "Zan, Zendegi, Azadi!", "Women, Life, Freedom!"